Yarn Club
April 7, 2017 • 2:00 pm - 4:00 pm
Location: Bartlett Room for Teens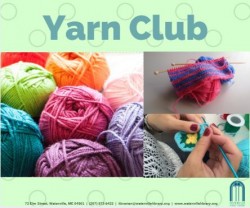 Yarn Club is for people for all ages who enjoy yarn crafts such as knitting, crocheting, plastic canvas, and for anyone who wants to learn new skills! Join Miss Foster to enjoy your yarn hobby and socialize with others. Learn a new craft, get help fixing a mistake, or learn how to adjust and create your own patterns!
This program is free and open to the public. All ages are welcome! Children under 10 years old must be accompanied by an adult. Materials will not be provided - bring your projects, new and old!
For more information, please call (207) 872-5433, or email librarian@watervillelibrary.org.