Teen Anime Club: RWBY
April 25, 2017 • 3:00 pm - 4:00 pm
Location: Bartlett Room for Teens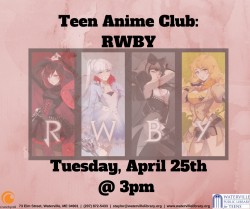 Come join us at the Waterville Public Library for our bi-weekly anime club!

Already a fan or curious to know what it's all about? Join us for old and new favorites, plus snacks and socializing.

This event is free and open to attendees under the age of 18.

For more information, please call
(207) 872-5433, or email staylor@watervillelibrary.org.

RWBY: "Using the power of Dust, Team RWBY led by Ruby Rose, trains to be the next generation of protectors called Huntsmen and Huntresses. Team RWBY trains to fight crime and monsters known as the Grimm. Together they will protect the world of Remnant."