Maker Mondays: DIY Jewelry Boxes
May 22, 2017 • 3:00 pm - 4:00 pm
Location: Bartlett Room for Teens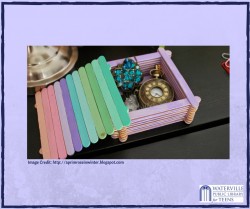 Join us in the Teen Room at the Waterville Public Library and make something amazing! Every Monday at 3pm we'll be creating something new. We provide the supplies, you bring the creativity!

On Monday, May 22nd, we'll be making fabulous jewelry boxes out of craft sticks.

This event is free, and open to attendees under the age of 18.

For more information, please call (207) 872-5433, or email staylor@watervillelibrary.org.
More Information »