Waterville Library Love Day - Tea Party!
April 26, 2017 • 4:00 pm - 6:00 pm
Location: Fireplace Room, 1st Floor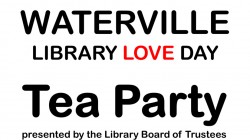 The Library Board of Trustees invites the community to celebrate Waterville Library Love Day on 4/26/17! By Mayoral Proclamation, April 26, 2017 is a day to celebrate the Library's 121 years of service to the community. Join the Library Trustees for cake, crafts, treats, prizes, and other fun!