MACE and Cirque du Geek's Festival Meetup!
August 12, 2017 • 11:00 am - 2:30 pm
Location: Waterville Public Library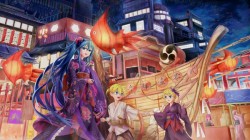 Each year, MACE and Cirque du Geek come together for a Japanese festival themed meetup to celebrate with dance, food, and fun! Bust out those lovely kimonos and yukata if you've got them or just throw on whatever you'd like and just join us for a fun cultural themed event! Food will be potluck as we always do with the admin team also bringing water to share to keep everyone hydrated. Cosplayers of all ages and skill levels are more than welcome, as are friends of cosplayers!

This event is free and open to the public.
<>
Questions?
Head to the Facebook event:
https://www.facebook.com/events/1892698907618124/
Or call the Library at (207) 872-5433!