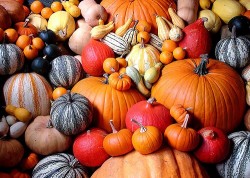 Join Ms. Jenn for a special Storytime that is…
Come to a special program: P U M P K I N F U N !
Followed by a pumpkin craft!
LIKE me on Facebook! Ms. Jenn and the Nutrition Detectives
www.facebook.com/MsJennAndTheNutritionDetectives
"Hi, I'm Ms. Jenn, and I'm passionate about nutrition. Especially about introducing good nutritional habits to kids and encouraging them to eat more fruits and vegetables. Fruits and Vegetables provide all the nutrients and vitamins we could ever need to be healthy, and stay healthy. Since many kids do not know why fruits and vegetables are so important, it is my mission to make them fun and familiar, with books about them, songs about being strong and healthy, and fruit and veggie puppets. So join me and my puppets, the nutrition detectives, for fun with stories, songs, puppets and food-themed crafts!"