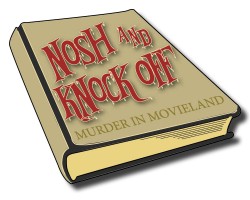 There are only a few tickets left for the Nosh and Knock Off event on October 28! Want the chance to see our very own Deputy Chief William Bonney perform as one of our suspects? Get your ticket(s) today at the Library or online at https://wplnk17.eventbrite.com!

Tickets are now on sale for the October 28, 2017 NOSH AND KNOCK OFF EVENT -"Murder in Movieland", an interactive murder mystery evening at the Waterville Public Library! The evening will be a celebration of creativity, community, and fun! The cost is $30 per person. Tickets are limited so get yours early! This is a 21+ event.
3 ways to get tickets:
1) Pay online at https://wplnk17.eventbrite.com
2) From library board members
3) Pay with cash (exact change only) or check at the Waterville Public Library
All-Star Cast!
Madame Marie Alfredine Paulin Cormier
Uri Lessing
Nate Towne
Tanya Verzoni
Nick Isgro
Tammy Richardson
Bee Tyler
Tim Croce
Lauren Ouellette
William Bonney
Emilienne Ouellette

Includes culinary delights and libations from:
Christopher Hastings Confections
The Last Unicorn Restaurant
Meridians
Parsonage House
Selah Tea Cafe
Shipyard Brewing Company
Silver Street Tavern
FMI: call 680-2611; email office@watervillelibrary.org; visit watervillelibrary.org.

THANK YOU to the sponsors of this Waterville Public Library fundraiser!
Pine Tree Sponsor:
Choice Investments
Maine Tourmaline Sponsors:
GHM Insurance
O'Keefe Dental
Schooner Sponsors:
Day's Jewelers
Key Bank
Thomas Grant, CPA and William Grant
Thomspon Volkswagon, Inc.
Lobster Pot Sponsors:
Maine General
Chickadee Sponsors:
Apollo Day Spa
Houle's Plumbing
Kerish Bentinen, LCSW
Lisa Hallee
Maine Film Center
PFBF, CPAs
State Farm
Ware Butler