Teen Karaoke
October 24, 2017 • 3:00 pm - 4:00 pm
Location: Bartlett Room for Teens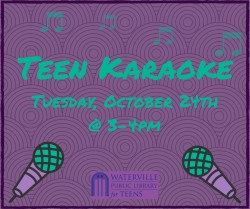 Come sing your heart out in the teen room at the Waterville Public Library!
Show off your karaoke skills and share your favorite renditions of your favorite songs. Sing a solo, pair up with a friend for a duet, or listen to others!
This program is free, and open to attendees ages 11-18.
For more information, please call (207) 872-5433,
or email staylor@watervillelibrary.org
More Information »