Storytime with Ashley Bryan, a Celebration of Art
March 21, 2018 • 4:00 pm - 5:00 pm
Location: Waterville Public Library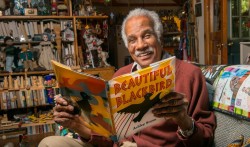 Join us at the Waterville Public Library to celebrate a national treasure, the legendary author/artist Ashley Bryan! A tremendous influence in the world of art and children's literature, Bryan is a 94-year-old award-winning artist, revered author/illustrator of more than 50 children's books, and maker of magical puppets and sea glass windows from found objects inspired by his African heritage. He has used art his entire life to celebrate joy, mediate the darkness of war and racism, explore the mysteries of faith, and create loving community. Health permitting, Mr. Bryan will be reading two of his favorite books, "Beautiful Blackbird" and "Can't Scare Me"!
Tea and light refreshments will be provided and a few copies of Mr. Bryan's books will be given away. This event is free and open to the public.
This event is sponsored by Colby College Museum of Art. Children's Book Cellar currently has some of Mr. Bryan's books available for sale in the store on Main Street in Waterville and will have some available for sale at this event.
Afterwards, head to Railroad Square Cinemas at 7:30pm for a special screening of "I Know a Man… Ashley Bryan" and a Q&A with director Richard Kane.
Photo credit: Bob Thayer, 2015