Teen Anime Club: Naruto Shippuden
May 23, 2017 • 3:00 pm - 4:00 pm
Location: Bartlett Room for Teens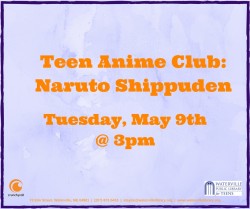 Come join us at the Waterville Public Library for our bi-weekly anime club!
Already a fan or curious to know what it's all about? Join us for old and new favorites, plus snacks and socializing.
This event is free and open to attendees under the age of 18.
For more information, please call
(207) 872-5433, or email staylor@watervillelibrary.org.
Naruto Uzumaki, is a loud, hyperactive, adolescent ninja who constantly searches for approval and recognition, as well as to become Hokage, who is acknowledged as the leader and strongest of all ninja in the village.