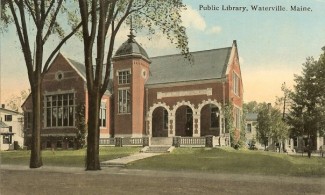 Since 1896, the Waterville Public Library has been a center for community and learning, a place where people and ideas connect. It is the mission of the Waterville Public Library to empower people and strengthen community. The Waterville Public Library provides the best in library services to the Waterville community. With the largest collection of materials in public libraries in Central Maine, the Waterville Public Library is sure to have something that will interest everyone! The Library has an outstanding collection of books for readers of all ages, graphic novels, audiobooks, films, magazines, newspapers, music CDs, and a fabulous large print collection. The Library provides access to 14 public computers as well as a teaching and learning space with 12 laptop computers, projection capabilities and flexible seating. The Waterville Public Library Business & Career Center provides a large array of services for job seekers, career changers, entrepreneurs, businesses, and creative types.
Mission Statement:
Through free access to information and the advancement of knowledge, the Waterville Public Library empowers people and strengthens community.
Primary Purpose:
The Waterville Public Library is an inclusive gateway to knowledge and lifelong learning. Working with partners, the Library provides access to opportunity, fosters economic and workforce development, promotes arts and culture, supports positive youth development, encourages literacy, and builds an informed, democratic society.

Waterville Library & Waterville Library Staff Awards:
2008: Maine Library Excellence Award
2010: Mid-Maine Chamber of Commerce Rising Star Award (Library Staff)
2011: Waterville Area Regional Arts and Cultural Center William J. Cotter Award (Library Staff)
2011: Maine Downtown Center Community Service Award
2012: Mid-Maine Chamber of Commerce Community Service Project of the Year
2014: Carnegie Corporation/New York Times I Love My Librarian Award (Library Staff)
2015: Mid-Maine Chamber of Commerce Outstanding Professional Award (Library Staff)
2017: 2017 IMLS National Medal Winner